Herkimer County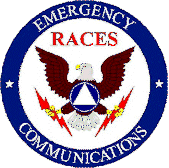 ARES/RACES
SKYWARN
Don Rankins N2ZWO - Emergency Coordinator/Radio Officer
315-894-5501 (h), 527-5831 cell phone, 315-894-3621 fax
Hams have been providing services to the public since 1913. Emergency communications is a founding principle of the Amateur Radio Emergency Service. The Amateur Radio Emergency Service consists of FCC licensed amateur radio operators who have voluntarily registered their qualifications and equipment for emergency communications duty in public service when disaster strikes. ARES is organized on local, section, and national levels. The program of public service is organized by the
American Radio Relay League
to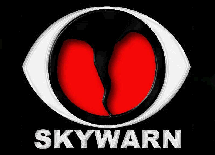 provide a reserve of emergency communicators. RACES is administered by local, county and state emergency management agencies. It is supported by the Federal Emergency Management Agency
(FEMA)
. RACES provides radio communications during times of civil emergencies. RACES is activated only by emergency management officials.

ARES/RACES Support Role
The primary role for both services is to support the emergency management community (responders, relief, and recovery agencies) with communications during times of emergency and disaster when normal communications are unavailable or overwhelmed with use. Amateur radio works when other methods fail as it does not rely on wires and communication facilities of common carriers. Amateurs have a wide range of frequencies and modes available to deliver routine, welfare, emergency and tactical messages. Amateur operators are licensed and pre-authorized to communicate internationally into and out of places where disaster has struck. The radio services provide Herkimer County with a reserve of operators and technicians that are trained and equipped in the art of radio communications. For more detailed information about ARES and RACES see the ARRL Public Service Communications Manual.

VHF Repeaters
Herkimer County ARES/RACES owns and maintains three Very High Frequency (VHF) repeaters. The N2ZWO/1 repeater is tuned to 145.110 MHz using a minus offset and a PL Tone of 167.9. This repeater is interfaced with a weather receiver that automatically broadcasts severe weather alerts for the local area when the alerts are issued by the National Weather Service Albany. Also, a telephone autopatch system is available on this repeater for authorized users. The repeater is located in southern Herkimer County on Spohn Hill. The second, N2ZWO/2 VHF repeater is tuned to 147.045. It uses a plus offset and a PL Tone of 167.9. It is located north of the Mohawk Valley on Dairy Hill Road. The third repeater, N2ZWO/3 is located at the 911 center in Herkimer. Each of the repeaters is provided with an emergency power source for use when commercial power fails. The repeaters have received frequency coordination through
UNYREPCO.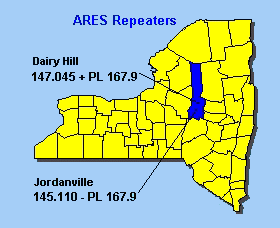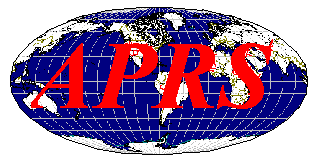 Herkimer County ARES/RACES owns and maintains an Automatic Position Reporting System
(APRS)
wide area node N2ZWO-10. The APRS system includes the use of the Global Position System (GPS) satellites and a nationwide network of amateur VHF and HF radios, computers, and maps used to digitally transmit messages, weather events and real time positions. Also transmitted are the real time positions of people, vehicles, aircraft and satellites. Members of Herkimer County ARES/RACES own personal APRS equipment and actively participate in the network activities. An active APRS station is even included along with other amateur radio equipment aboard the International Space Station.

ARES/RACES Station at the Herkimer County Communications Center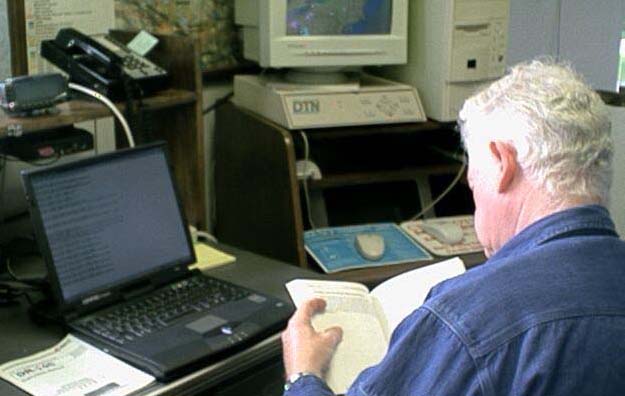 Installed at the Herkimer County Communications Center in the Office of Emergency Services is an all mode ARES/RACES communications station. This station includes recently manufactured VHF, UHF, and HF voice radios. A computer and VHF radio provide APRS and Packet radio communications. Included in the equipment are a Kenwood D700A, a Yaesu 920, and an Alinco DR140. Statewide, nationwide, and worldwide communications can be attained with the equipment. Included near the amateur station is the Emergency Management Office's DTN Weather receiver. This is a satellite weather monitoring receiver that provides a real time view of weather affecting Herkimer County and the Northeastern United States. The DTN unit is monitored by ARES/RACES members during Skywarn

activations.


Training
Members of Herkimer County ARES/RACES actively train throughout the year. Training nets are held every Monday evening at 7:00 p.m. on the 145.110 MHz repeater. (Alternate frequencies are 147.090/ 147.045/ and 146.580 simplex.) The New York State RACES training net is held each Sunday morning at 9:00 a.m. on 3.993.5 mhz. The annual ARRL "Field Day" is held on the fourth weekend of June. During that weekend extensive training in setting up remote temporary communications stations is provided through a nationwide competition of ARES organizations. Each fall the annual Simulated Emergency Test
(SET)
is run to test the response readiness of ARES groups throughout the U.S. ARES/RACES members provide communications for various parades, bike and foot races, and at Halloween for the NY State Police "Pumpkin Patrol". During the patrol NY State Thruway Bridges are watched for any signs of mischief that might endanger travelers on the interstate highway. Each event provides further skill training for ARES/RACES personnel.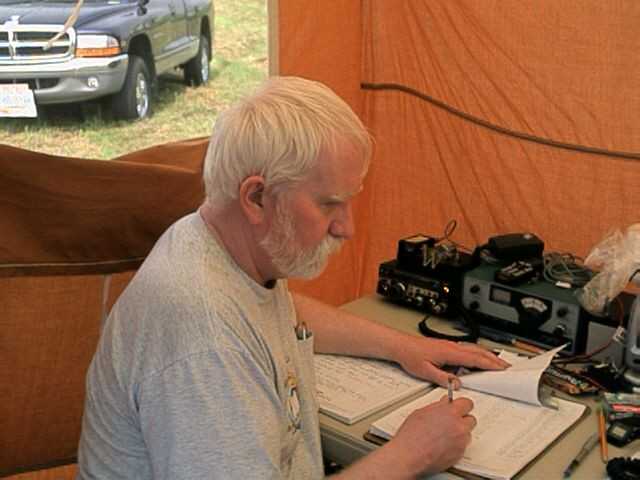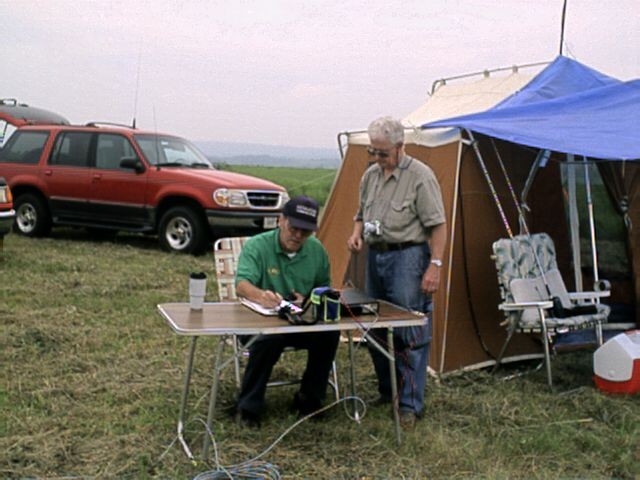 SKYWARN
"SKYWARN" is a network of community weather spotters serving the National Weather Service. An important part of weather forecasting is the inclusion and use of data supplied by trained weather observers. Herkimer County ARES/RACES participates in the National Weather Service Skywarn program through the direction of the Albany Office of the NWS. Skywarn spotter training is provided annually by instructors from the Albany Office of the NWS. An amateur radio station is installed at the Albany forecast office. During severe weather events local Skywarn spotters are activated. Information concerning rainfall/snowfall amounts, wind speeds, hail size, storm damages, etc. are forwarded to the Albany meteorologists. Skywarn activities have become a very important part of ARES activities in the county.


Fort Herkimer Amateur Radio Association
and ARES/RACES Meetings
Herkimer County ARES/RACES maintains a close relationship with the Fort Herkimer Amateur Radio Association. Most ARES/RACES members also maintain membership in the FHARA. Joint meetings of the organizations are scheduled for 7:00 p.m. on the second Wednesday of each month. Meetings are held at the Herkimer County 911 center.


Herkimer County Fire Chiefs' Association
Herkimer County ARES/RACES maintains membership in the Herkimer County Fire Chiefs Association. Maintaining a close relationship with fire officials in the county provides an understanding of the services we can provide and gives ARES/RACES members a better understanding of the exact communication needs emergency service providers are constantly facing.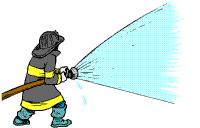 Herkimer County ARES/RACES Officials
Don Rankins N2ZWO - Emergency Coordinator/Radio Officer
(315) 894-5501 (h) (315) 527-5831 (c) (315) 894-3621 fax

Chris Bouck KB4CMF - AEC for Operations
(315) 429-3927 (h) (315) 868-0132 (c)

Ray Thibodeau KB2WRP - AEC for Administration
(315) 219-5174 (h)

Ed Prior W2XAM - AEC for Logistics
(315) 839-5883

Ron Knox KC2ENH - Liaison AEC
(315) 866-7621

Hank Crofoot KB2VLP - AEC for Skywarn
(315) 823-2993 (h)

Chris Bouck KB4CMF - AEC for Skywarn
(315) 429-3927 (h) (315) 868-0132 (c)

---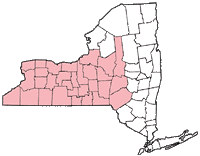 Western New York ARRL Officials
Section Manager - Laura Mueller N2LJM --- 2011 East Main St, Falconer, NY 14733 (716) 338-3122
Section Emergency Coordinator - Joseph Tedesco KC2DKP--- 12 Greenfield St, Orchard Park, NY 14127-4215
Section Traffic Manager - Mike Johnson N2WKT --- PO Box 65, Great Valley, NY, 14741-0065
District Emergency Coordinator - Brian Webster N2KGC --- 214 Eggleston Hill Rd, Cooperstown, NY 13326
Assistant Section Manager - Don Rankins N2ZWO-- 1435 Elizabethtown Rd, Ilion, NY 13357

---
Atlantic Division Officials
Director - Tom Abernethy W3TOM --- PO Box 73, Accokeek, MD 20607 (301) 257-6225
Vice Director - Bob Famigilo K3RF --- PO Box 9, Media, PA 19063 (610) 359-7300

---
New York State RACES
State RACES Radio Officer - Gil Saez N2PKB ---

183 Kings Rd, Coxsakie NY 12051 (518) 292-2267


State RACES Deputy Radio Officer

-

Ken Goetz

N2SQW --- PO Box 426, Cairo, NY 12413 (518) 925-6051
RACES Region IV Coordinator - Joseph Tedesco KC2DKP --- 12 Greenfield St, Orchard Park, NY 14127-4215
RACES Region IV OEMRegion4dl@dhses.ny.gov (315) 438-8907 Fax (315) 438-3350

---
Links of Importance


Direct all questions, corrections, or additions regarding this webpage to: Chris KB4CMF